Laxo Fresh
Let loose
Give yourself the good morning that you deserve. The fresh start that you've heard so much about. Constipation can literally cramp your style and be a bummer of sorts if allowed to take over your life. The inconvenience not withstanding, constipation is often either a symptom of a more serious health issue or even a precursor to one. Atmantan Naturals' Laxo Fresh is a natural laxative formula that contains extracts of Indian traditional herbs known to ease bowel movement. This stimulating natural formula helps correct bowel irregularities and enhances gut-health. This powerful laxative induces bowel movements within the subsequent 6-10 hours. It also helps reduce gas and bloating by creating a healthy digestive system for you.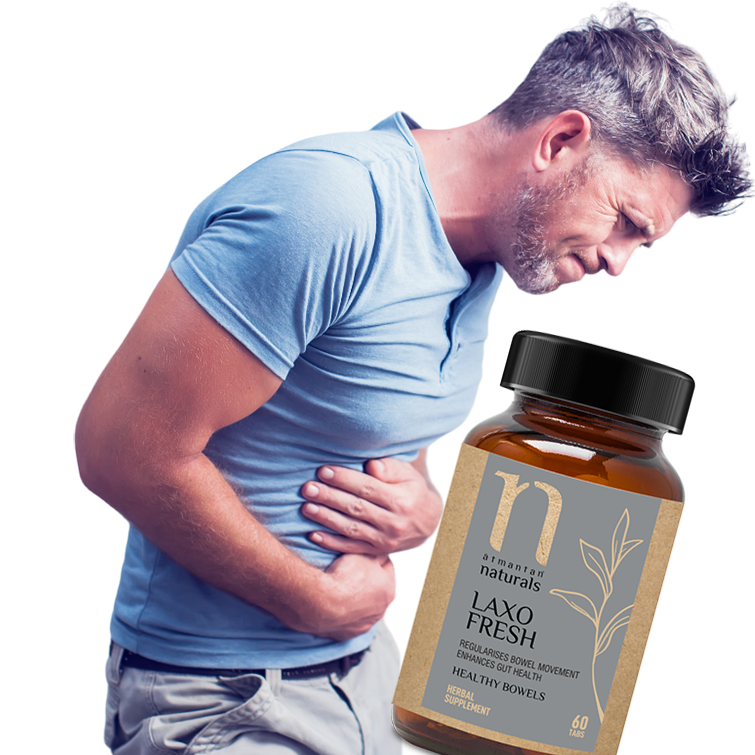 Laxo Fresh Benefits

Improves digestion

Addresses chronic constipation

Eliminates the root cause of constipation
Ingredients
No more holding back I Healthy Bowels
WITH ALL NATURAL EXTRACTS AND INGREDIENTS ONLY

Cassia Angustifolia Terminalia Chebula

Operculina Turpethum

Glycyrrhiza Glabra

Peppermint

Carum Copticum
How does Atmantan Naturals Laxo Fresh improve health?

Powerful formula that induces bowel movements in the next 6 to 10 hours

Stimulates and Improves elimination of waste materials

Resets and improves digestion

Good for gut health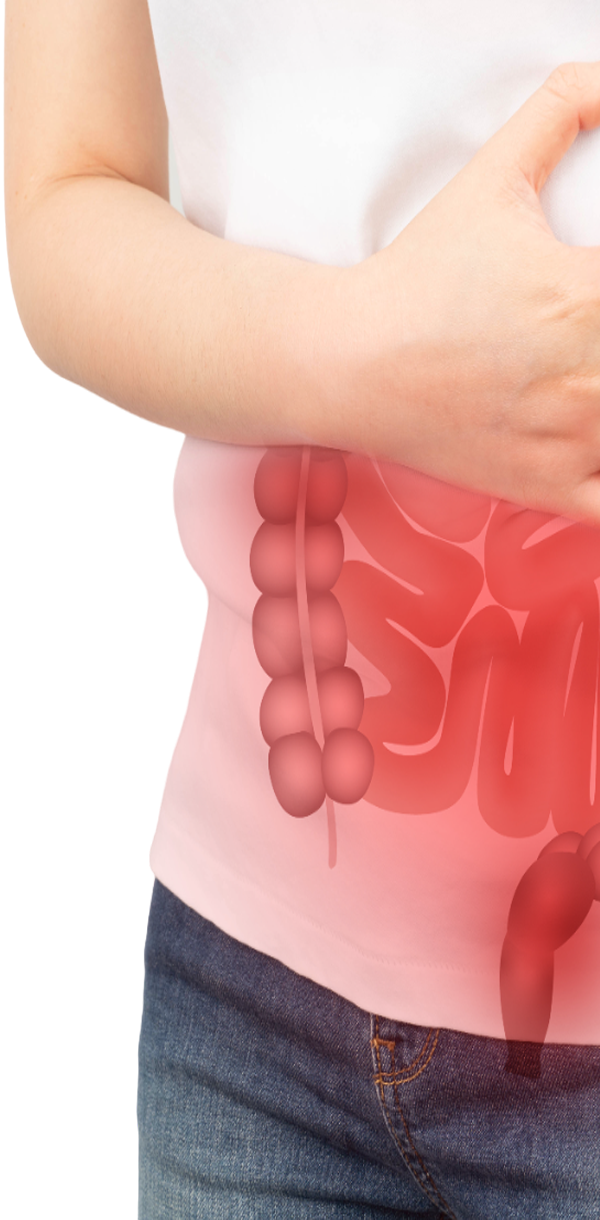 Contains

Cassia Angustifolia - Treats Chronic Functional Constipation Terminalia Chebula - Improves Motion

Operculina Turpethum – Effective Laxative. Anti-inflammatory. Soothes ulcers

Glycyrrhiza Glabra - Improves Gut bacteria

Peppermint – 8mg - Treats IBS

Carum Copticum – Is Anti-bloating. Soothes diarrhoea. Prevents Abdominal Tumors and treats abdominal pain
Is This For You?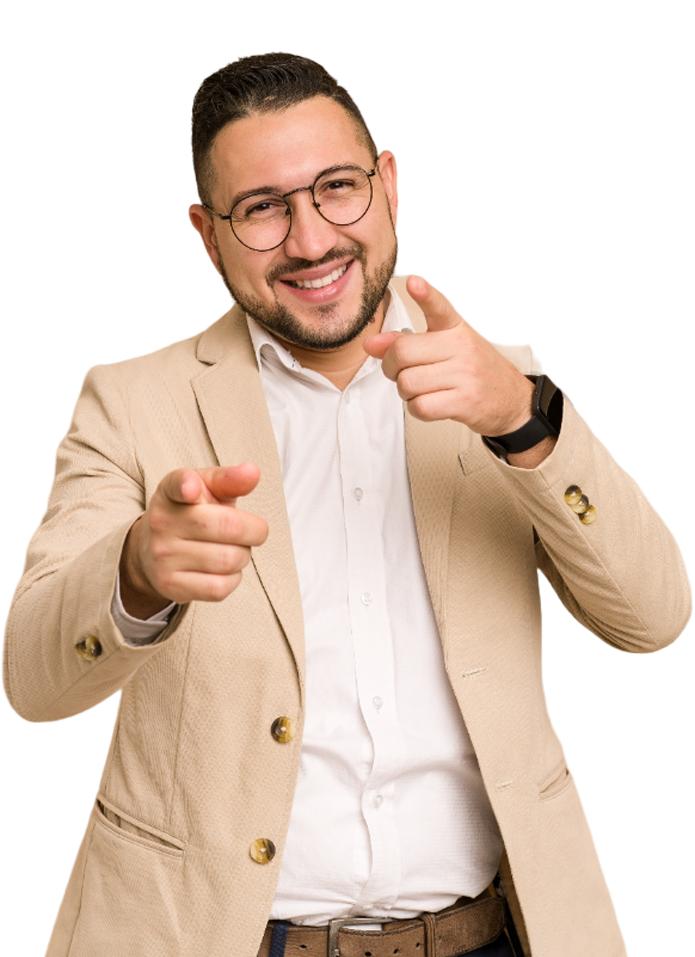 Anyone and everyone fighting

Activate peristalsis

Constipation
How should I have Atmantan Naturals Laxo Fresh?

1-2 tablets everyday after meals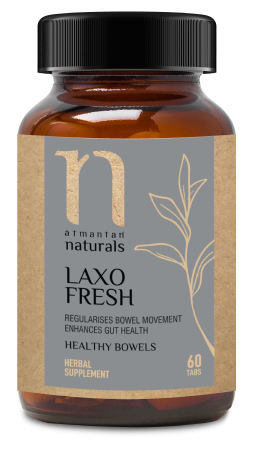 Get the most out of Atmantan Naturals Laxo Fresh by combining it with Atmantan Naturals Omega 3. This combination improves blood circulation and general health thanks to all the beneficial short-chain fatty acids.
Explore Management Kits
Atmantan Naturals is also backed by a team of doctors who can guide you.
Have any queries?
8799996200
Do call our dedicated medical health-line to get a better idea of how best our range of nutraceuticals can help you stay well and at your strongest.
Did You Know?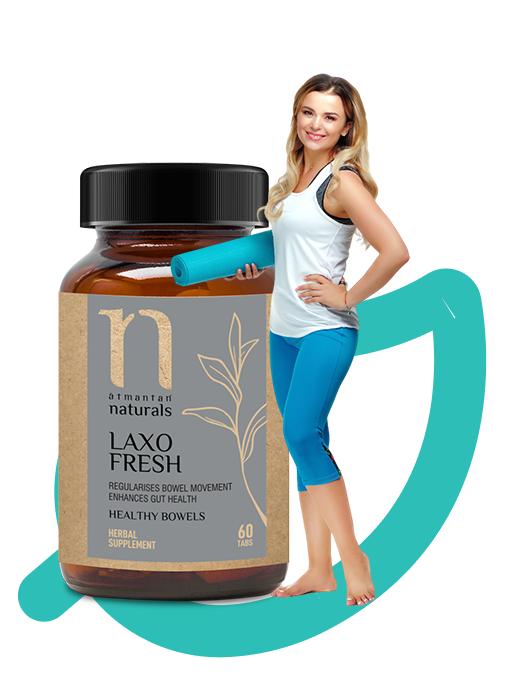 Healthy Bowels
NATURALS - The founding Team of healers tell us about the what, how & why of Naturals
Key Benefits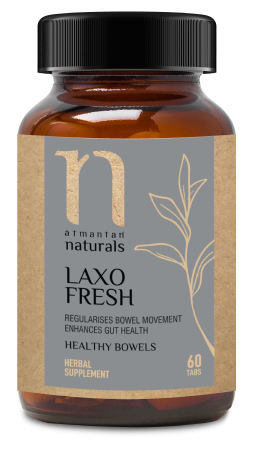 All natural

Easy Elimination

Great Mornings

Improved Health

Better Nutrition

Antioxidant

Improves Gut Biome

Prevents Autoimmune Conditions

IBS Support
Know Your Bowel Better
While digestion begins in the mouth, from eating, it takes about 6-8 hours for this food to finish the passage through your stomach and small intestine. After this only the food enters the large intestine for the last bit of digestion. Here the last bit of water is absorbed, and the waste moves through the colon for excretion. So, it is said that the time taken from when the food is eaten to the time it passes through our body as a stool is about 2 to 5 days.

Our bowel movements for food can occur between three times a week to three times a day. And a great self-test is that your stool should be soft, yet like well-formed logs, so to speak and this stool shouldn't be hard for you to push out as well.

While constipation can be caused due to several reasons, it is mostly known to occur when our waste or stool is either moving too slowly through the digestive tract or when we are unable to eliminate this waste effectively from the rectum (This may also cause the stool to become hard and dry).

A diet consisting of fibre and plenty of hydration along with healthy lifestyle habits including good sleep, fitness etc. will always support a healthy bowel; but sometimes there could be other reasons that cause you discomfort. We always suggest talking to a doctor and trying out natural remedies, rather than OTC medication. Any discrepancy in bowel health is also a sign that your gut is calling for help… gut health is hence a crucial function of optimal health.
The route out is always through the gut.

Here's to more predictable mornings!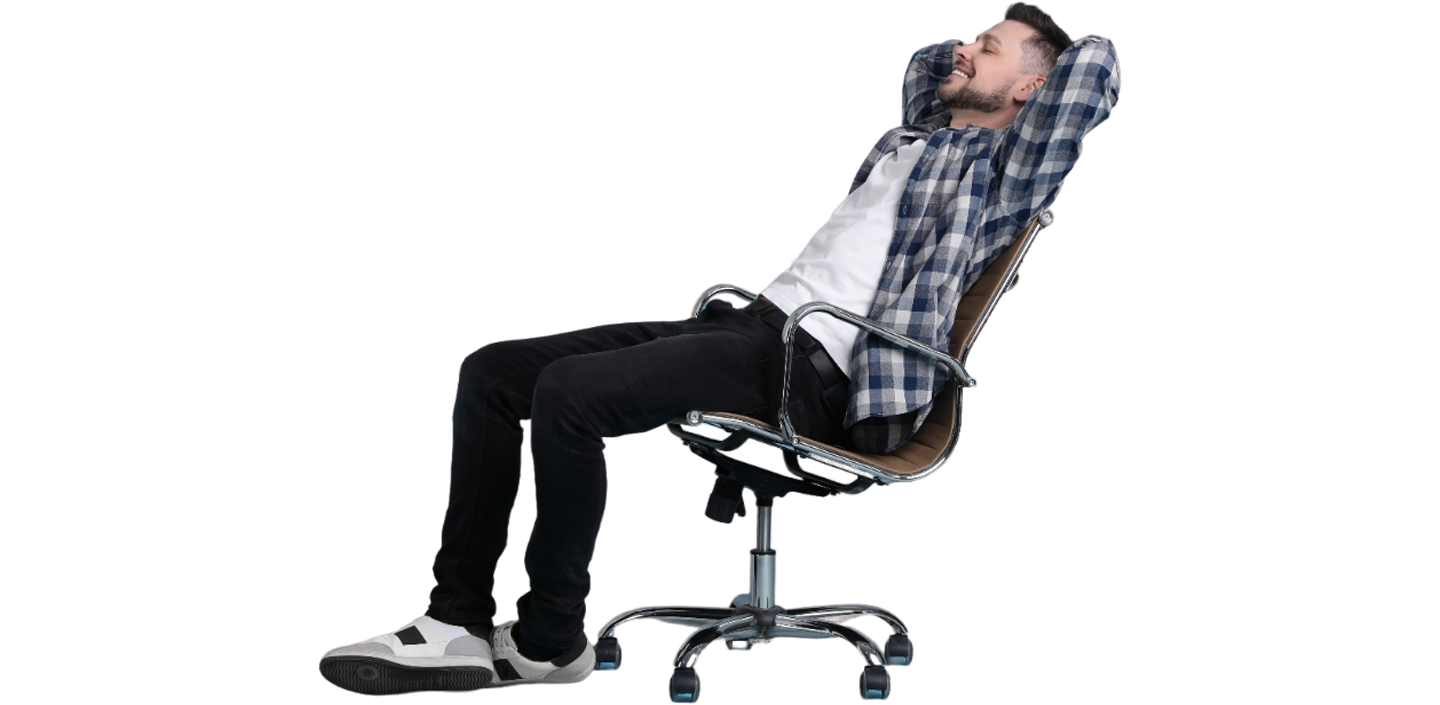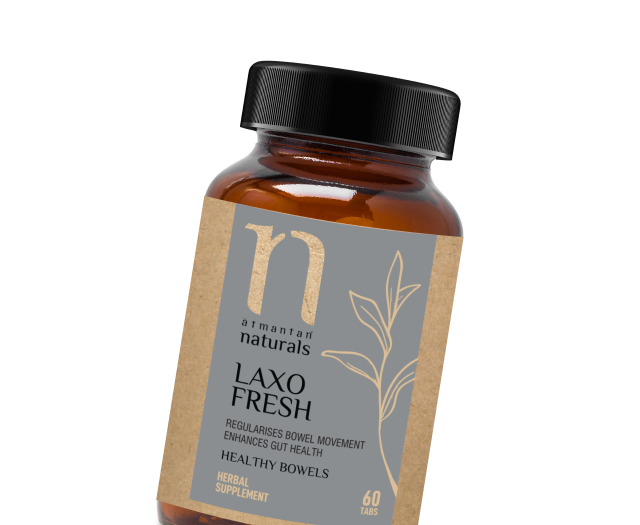 Why should I take Atmantan Naturals Laxo Fresh?

Healthy bowel movement

Eases constipation and resets bowel movement habits

Soothes bloating

Resets digestion and creates a healthy digestive system

Addresses issues like ulcers, gut imbalance

Treats fistula

Treats haemorrhoids

Antispasmodic
Call our dedicated medical helpline if you have more questions.
If you are experiencing any digestive problems, consult with our doctors now. A stronger digestive system improves the quality of your life far more than you realise.
Atmantan Naturals Laxo Fresh
VS Other Supplements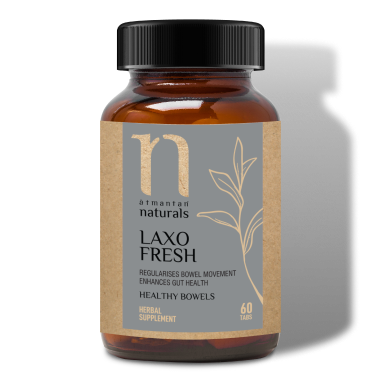 Natural Ingredients

Happy Tummy

No Side-effects

Hypo-allergic

Gut Friendly

Vegetarian
Atmantan Naturals is also backed by a team of doctors who can guide you.
Want to know if this is for you?
8799996200
Do call our dedicated medical health-line to get a better idea of how best our range of nutraceuticals can help you stay well and at your strongest.
CASE STUDIES
IBS, Bloating, Flatulence and Disturbed Sleep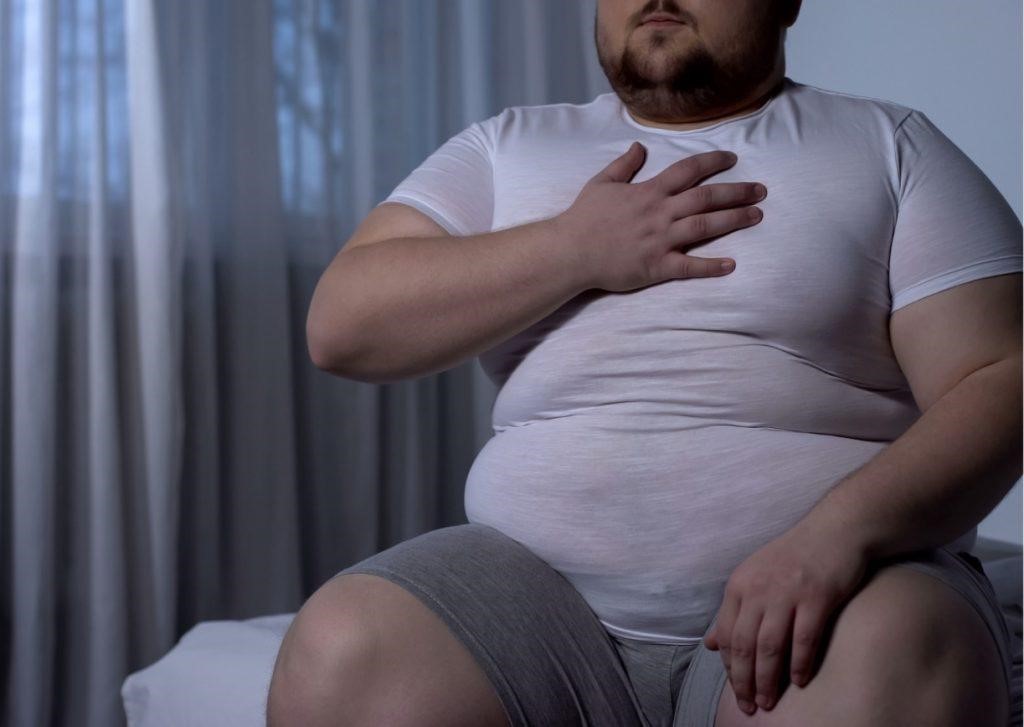 A 21 year old young man suffering from osteoarthritis, IBS (irritable bowel syndrome) and a consequent weight gain. He also had been suffering from childhood Asthma (since the age of 5). Along with all this and thanks to his hectic lifestyle, he was also suffering from gastric issues such as bloating, burping flatulence along with a disturbed sleep.
Looking for relief from symptoms of IBS which had further aggravated due to lack of sleep he was advised to improve his lifestyle and dietary habits. He was told to improve his sleep hygiene, and take on yoga and other fitness; He was also recommended a grain-free diet to combat the inflammation, he was told to supplement his diet with Atmantan Naturals' Relax-aid (for sleep), Gastro care (for gut health), Boswellia Max (to combat inflammation and joint pain), Natflam 6 (for musculoskeletal pain), Pro-Collagen (to enhance bone and joint health), Fat Blazer (increases metabolism and modulates hunger), and Laxo Fresh (improves digestion and addresses gastric issues).
After 3 months of following the recommended diet and supplementation, all his symptoms of gastric irritation had subsided, even his acidity and bloating were gone! (His bowel movement has regularised too).
His sleep (on most days) had doubled to 8 hours of restful shut-eye instead of the 4 hours he use to get. Even his osteo-induced pain had reduced, and he had lost some weight (10+ kgs) as well thanks to the improved lifestyle.
This young guest had with the guidance of the doctors managed to improve his lifestyle and associated lifestyle disorders. People like him are always an inspiration to others, and it is never too late to get started on a healing journey.
Haemorrhoids and painful Bowel Evacuation does not have to be a Way of Life!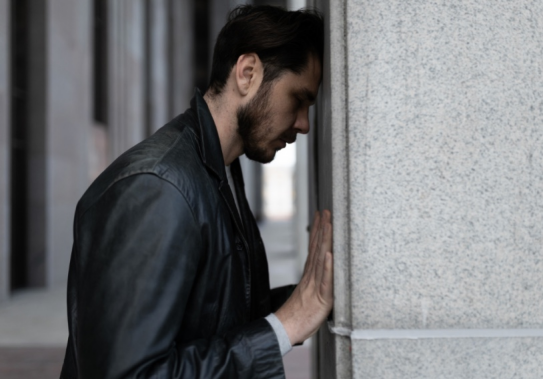 A 39 year old male guest had been suffering from haemorrhoids for years and as a result had been going through incomplete bowel habits, with a frequency of bowels more than 3 times a day, pain during evacuation etc. All these health concerns had majorly affected his quality of life.
He decided to get in touch with the Doctors of Atmantan Naturals. With them, he was recommended an anti-inflammatory and alkaline diet, along with certain fibre-rich foods etc. Along with this, he was put on Naturals supplements of Pregut (Restores gut health, gut balance and gut function) and Gastrocare (Anti-inflammatory and carminative as it is a natural anti-H.Pylori supplement), Laxofresh (Improves digestion) and Virgin Coconut Oil for improving the gut immunity. He was also recommended breathing, meditation and walking for fitness.
He was surprised and overwhelmed by his transformation as his bowels regularised, their frequency reduced, and even the pain had now drastically reduced. Most importantly, all these changes occurred for him almost immediately (after the 2nd day itself of starting this diet and recommendations!) All these positively impacted his quality of life.
FAQs
What does Atmantan Naturals' Laxo Fresh treat? Can it help my chronic constipation?
Atmantan Naturals' Laxo Fresh is a combination of herbs which supports healthy elimination, reduction of occasional bloating, gas and abdominal discomfort.
I am suffering from chronic constipation. Can Atmantan Naturals' Laxo Fresh help? Will my body become dependent or addicted to it?
Herbs used in this combination help eradicate the root cause of constipation. This formulation will clean unwanted microbial growth that causes constipation. Since the medication works by eliminating the causative factor, it will not cause any form of addiction.
What is the goal of the programme?
This product deals with wide array of digestive challenges including constipation, gas, abdominal discomfort, microbial overgrowth, irritable bowel etc. It's better than antibiotics for constipation dominant SIBO (Small Intestinal Bacterial Overgrowth)
What are the key ingredient of Atmantan Naturals' Laxo Fresh?
Senna & Terminalia Chebula. Stimulates muscles that line your gut, helping them to move the bowels along your GI tract. The leaves of senna (Angustifolia Vahl.) have been used for eons in alternative medicine to treat constipation.
Operculina Turpethum. Common laxative herb used in panchakarma therapies. Useful in fevers, oedema, ascites, anorexia, constipation, hepatosplenomegaly, haemorrhoids, cervical lymphadenitis, fistulas, constipation, chronic gout, fever, bronchitis, ulcers, tumours, obesity, jaundice, herpes, induce lacrimation, and other skin disorders.
Glycyrrhiza Glabra. These herbs with anti-spasmodic properties make bowels looser. Herb supplementation, particularly glabra, significantly increased the representation and potential expression of several microbiome such as glycosyl hydrolase families.
Peppermint – Consuming peppermint oil orally helps relieve common symptoms of irritable bowel syndrome such as abdominal pain, bloating, and gas. It also acts as an antispasmodic and relaxes the smooth muscles in the intestine helping to ease motion.
Carom Copticum – Encourages strong anti-microbial activity in the gut. Ajwain is a quick remedy for its therapeutic effects on bloating, fatigue, diarrhoea, abdominal tumours, abdominal pain, respiratory distress, and loss of appetite.