Psoriasis is a skin disease noted by itchy and scaly red patches on the skin. This is often a chronic condition with episodes of flaring and remission. Lesions are often seen around the knees, elbows, trunk, scalp and nails. Most cases are treated with temporary relief giving topical application and steroids doses. Atmantan Naturals Psoriasis Management Kit treats the allergic responses by desensitising the allergy receptors and fixes gut health  – for most skin issues begin deep down. 
Atmantan Naturals Allergy Care desensitises the allergy receptors that cause atopic dermatitis. Allergy-induced psoriasis is noted by raised IgE levels, signifying that the flare-up episode is a reaction to something. This supplement also has antimicrobial properties that treat the inflammation and infection of the gut.  
Atmantan Naturals Pre-Gut gets to the very bottom of most skin infections. An unhappy gut expresses its displeasure through angry or irritated skin. This supplement replenishes and nourishes the good gut flora that decides our general wellbeing.
In This Package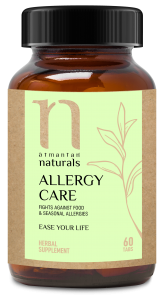 Fights Against Food & Seasonal Allergies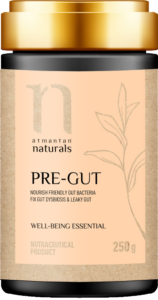 Good Health Begins With A Healthy Gut Environment
ATMANTAN NATURALS