Curcumin+
Health, spice and everything nice.
The kitchen has always been a storehouse of wellness secrets - as it should be. Food has the power to heal, and turmeric has been working overtime for centuries to keep people fighting fit. Pure Curcumin, which is the nutritional compound of the turmeric plant, is used in its most potent form in Atmantan Naturals. This Curcumin+ is pure goodness that slows down the oxidative stress in the body! Ours is a bioavailable curcumin, that promotes joint health, supports healthy immune response and improves gut lining, intestinal health and liver function, making it one of the most sought-after curcumin supplements on the market.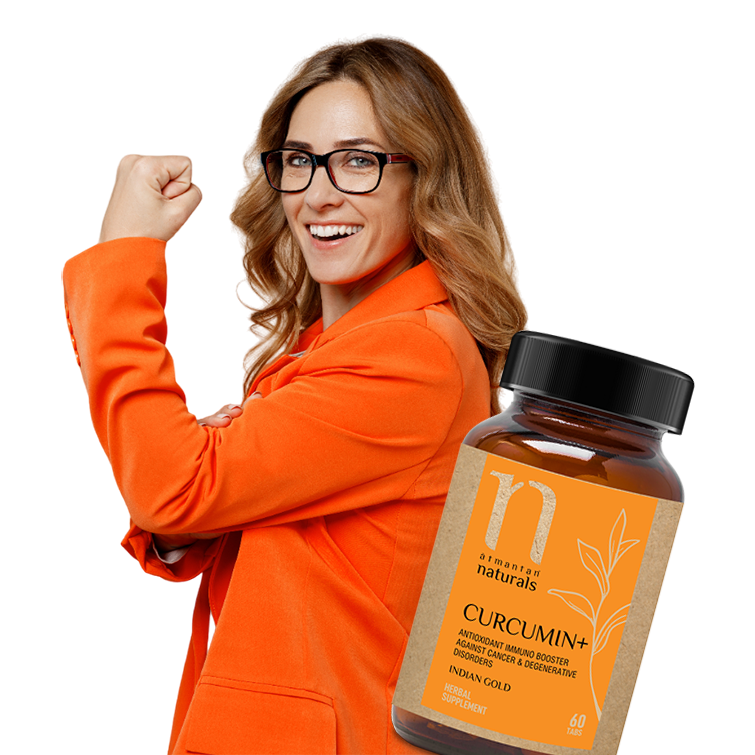 Curcumin+ Benefits

A most powerful antioxidant

Fights multiple lifestyle diseases

Cancer recovery elixir
Ingredients
Therapy in a bottle I Indian Gold
With all natural extracts only Whole turmeric extract Curcumin (Standardized to > 95% curcuminoids) Piperine
How Does Atmantan Naturals Curcumin+ Improve Health?

One of the most powerful antioxidant compounds

Our turmeric curcumin supplement fights infections

Helps counter stubborn weight

This turmeric extract supplement boosts brain functioning

Improve heart health with this curcumin extract supplement

Aids digestion

Alzheimer's heart cancer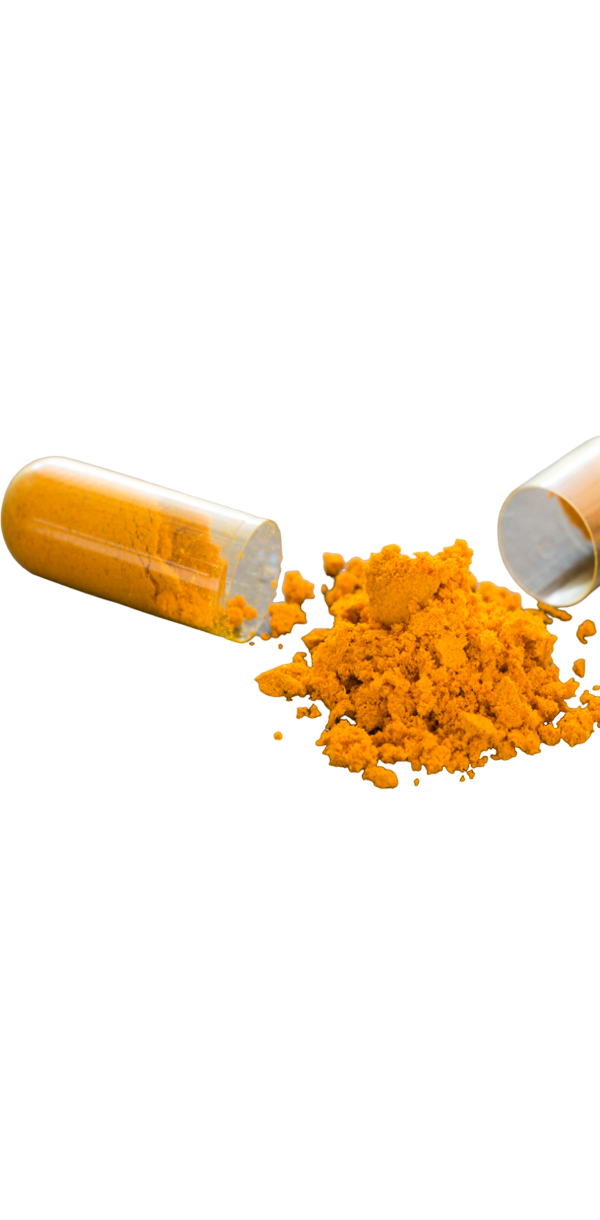 Contains Whole Turmeric Extract - 200mg - Anti-depressant. Antioxidant. Anti-inflammatory Curcumin- 500mg (Standardised to >95% curcuminoids) - Powerful Antioxidant Piperine- 10mg - Improves nutrient bioavailability
Health, spice and everything nice
Is This For You?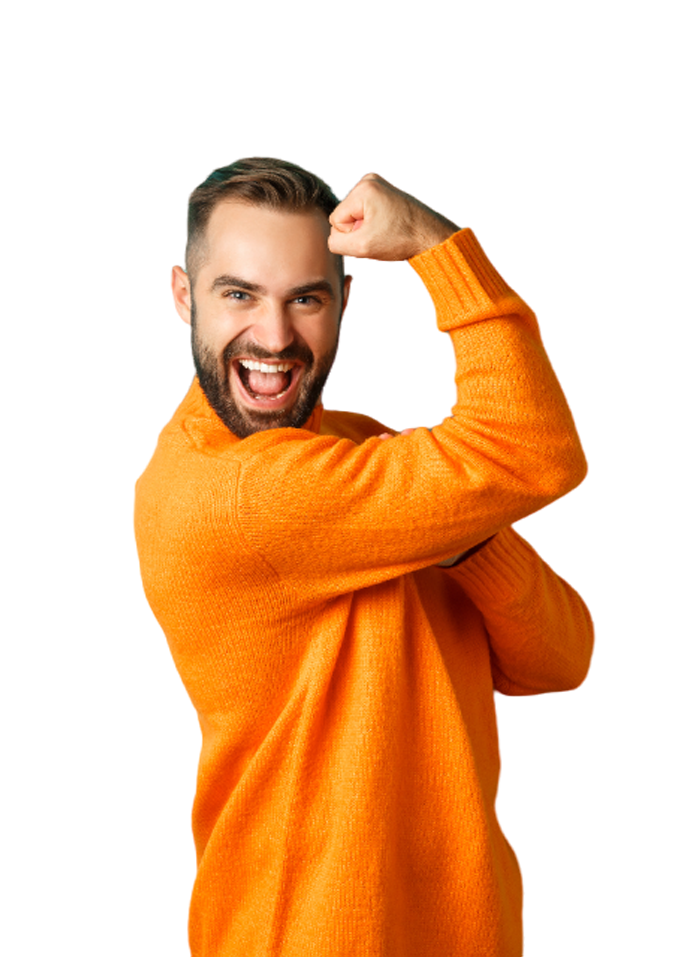 Anyone And Everyone Fighting

Respiratory Issues

Autoimmune health conditions

Inflammation

Repeat infections
How Should I Have Atmantan Natural Curcumin+?

1-2 tablets everyday after meals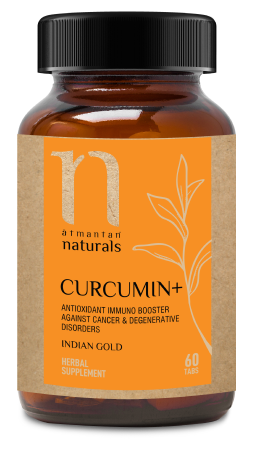 Get the most out of Atmantan Natural Curcumin+ by combining it with Atmantan Naturals Omega 3. This combination improves blood circulation and general health thanks to all the beneficial short chain fatty acids.
Explore Management Kits
Atmantan Naturals is also backed by a team of doctors who can guide you.
Have any queries?
Do call our dedicated medical health-line to get a better idea of how best our range of nutraceuticals can help you stay well and at your strongest.
Did You Know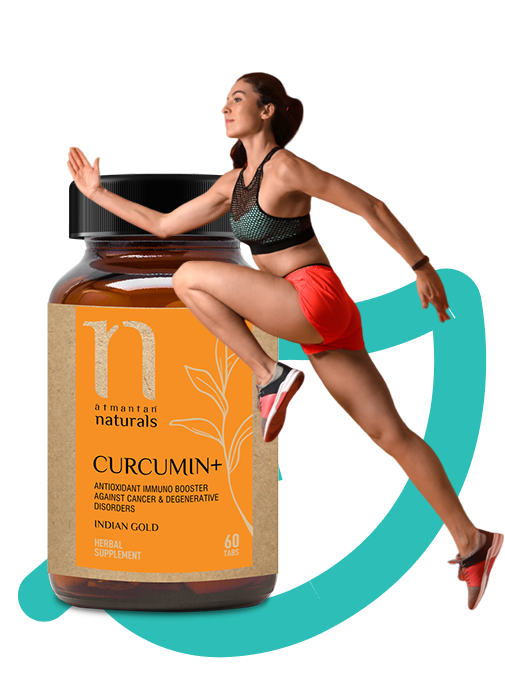 Health, spice and everything nice
Key Benefits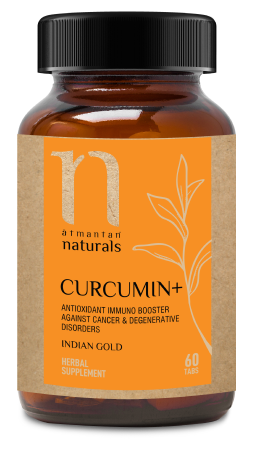 Improved Health

Anti-ageing

Better Nutrition

Antioxidant

Anti-inflammatory

Treats Cancer

Support Joints

Helps Leaky Gut

Heals Skin

Fights Infections

Improves General Well-being
Know Oxidative Stress Better
Oxidative stress causes oxidative damage, that is believed to be one of the mechanisms behind ageing and many other diseases related to inflammation.

Oxidative stress which is the disturbance in the balance between the production of reactive oxygen species (free radicals) and our antioxidant defenses, can lead to cell and tissue damage. Free radicals tend to react with important organic substances, such as fatty acids, proteins, or DNA.
Free radicals in our bio-system are an outcome of our normal aerobic cellular metabolism. These create a toxicity and, result in protein and DNA damage, inflammation, tissue damage and even a subsequent cellular apoptosis.
The in-built antioxidant system of body does play its role in preventing damage from free radicals. However, an imbalanced defense mechanism of these antioxidants, or an overproduction of free radicals in our bio-system can penalise us leading to a neuro-degeneration.

Oxidative stress which is a natural occurrence that also plays a big role in the ageing process and can also be potentially toxic for our neuronal cells. Neurodegenerative diseases are a condition in which the nerve cells from brain and spinal cord are lost leading to either functional loss (ataxia) or sensory dysfunction (dementia).
Anti-oxidants are popular world over for anti-ageing but they also prevent inflammation and, neuro and cellular oxidation!
Antioxidants consumed through an external source, may it be diet or supplementation are now being considered as a therapeutic solution, as they have capability to neutralise free radicals and protect the body from free radicals.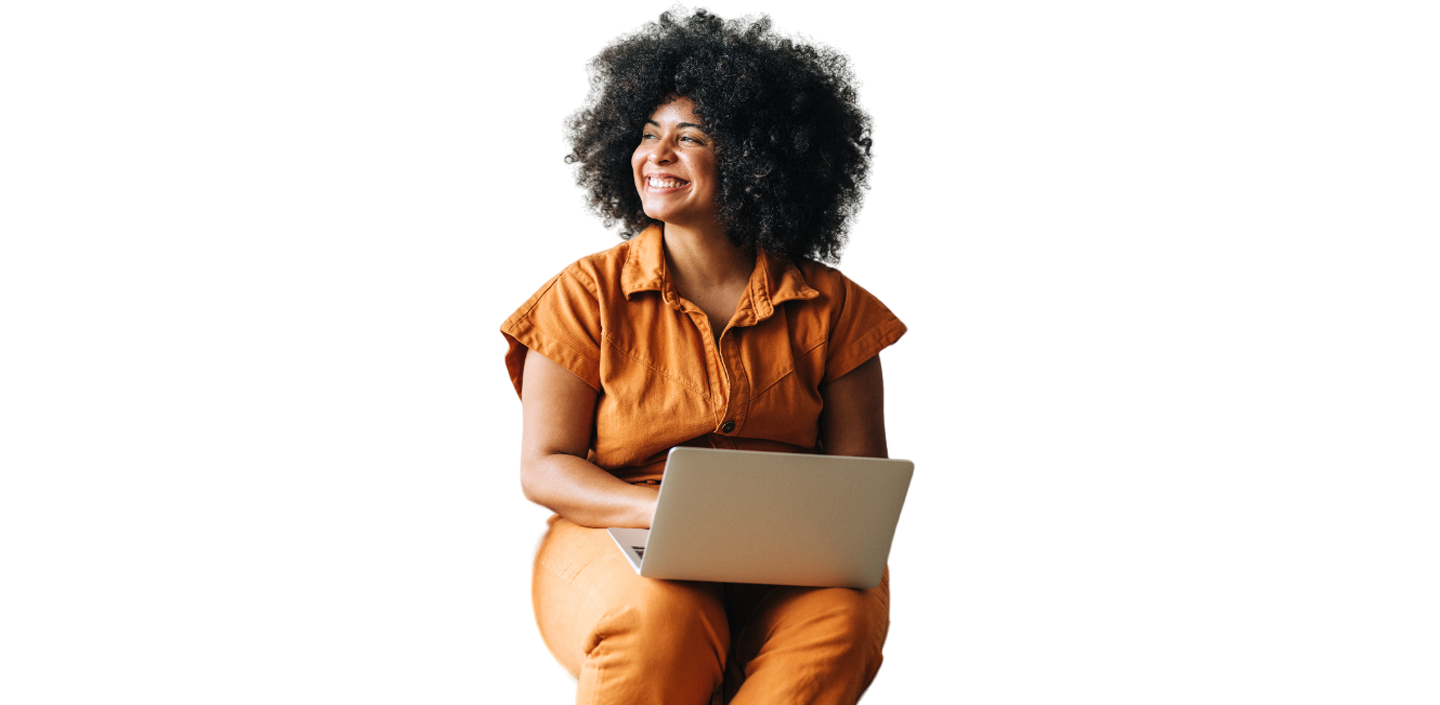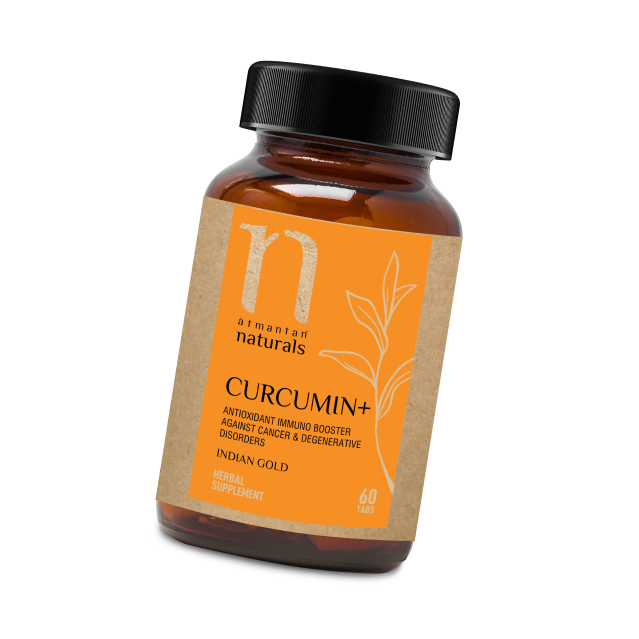 Why should I take Atmantan Natural Curcumin+ ?

Curcumin helps manage oxidative and inflammatory conditions

Controls metabolic syndrome

Manages arthritis

Anxiety Management

Reduces Hyperlipidemia

Anti-ageing

Can help in relieving exercise-induced inflammation and muscle soreness,

Enhances muscle recovery and performance

Improved immunity

Strengthens the respiratory system

Improves autoimmune conditions
Call our dedicated medical helpline if you have more questions.
If you are experiencing any digestive problems, consult with our doctors now. A stronger digestive system improves the quality of your life far more than you realise.
Atmantan Naturals Curcumin+
VS Others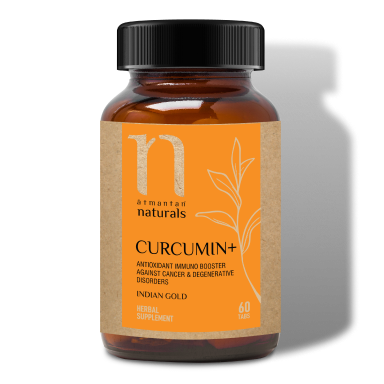 Pure extract

Antioxidant

No Side-effects

Hypo-allergic

Gut Friendly

Vegetarian
Atmantan Naturals is also backed by a team of doctors who can guide you.
Want to know if this is for you?
8799996200
Do call our dedicated medical health-line to get a better idea of how best our range of nutraceuticals can help you stay well and at your strongest.
CASE STUDIES
Post-covid Recovery Is Always Possible, You Only Need To Start Working On Your Health.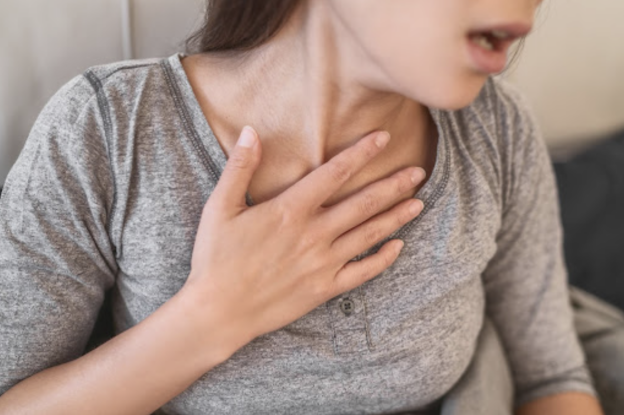 This lady guest consulted the Atmantan Naturals' healer with complaints of difficulty in breathing, shortness of breath, excessive tiredness (and these symptoms seemed to get worse after physical activities). She also suffered from tightness in the chest, persistent cough, chest pain with pounding heartbeat, and an increase in migraine episodes. Along with all this, she was also suffering from general body ache and indigestion. 
After a detailed history, our Doctors got to know that this 44 year-old had recently suffered from the COVID infection. It was also hence confirmed that all of her symptoms clearly indicated compromised immunity. She was advised to immediately get on a programme to boost her immunity.
On our Doctor's advice, she got certain blood tests done as well. Her reports revealed an increase in her CRP level which is evidence of a severe inflammation in the bio-system. In fact this test gave us a clear picture of a post-covid complication with dysregulated immune system. She started her programme with the ultimate goal of boosting her immunity through prescribed dietary changes.
Her diet was based on an intake of anti-inflammatory foods and a high protein diet. Along with this, she was recommended the supplementation of Atmantan Naturals' DEFENCE MAX (for improved immunity), CURCUMIN+ (anti oxidative and immunity enhancer), ALLERGY CARE (reduces histamine load and shields from allergies) and VIRGIN COCONUT OIL (for enhanced brain, skin and metabolic health).
She was also told to take on Yoga and breathing practices and after 3 weeks this routine effectively helped relieve her breathlessness & the congestion in the chest gradually but surely. (Initially her breathing ratio was 1:0:1 which was improved to 1:2:4 inhalation: hold: exhalation). This was evidence of a tangible improvement in her physical state.
She had also started feeling more energetic and even her sleep quality had improved tremendously. She now felt an ease in breathing, and while doing her daily activities.
She assured us that she would continue to follow her diet and eventually intended increasing her workout and gradually intended moving towards strength training as well. Her recovery this far gave her strength to get back to pre-covid state of health!
Getting Back To Pre-surgery Fitness Level, Is The Best Form Of Recovery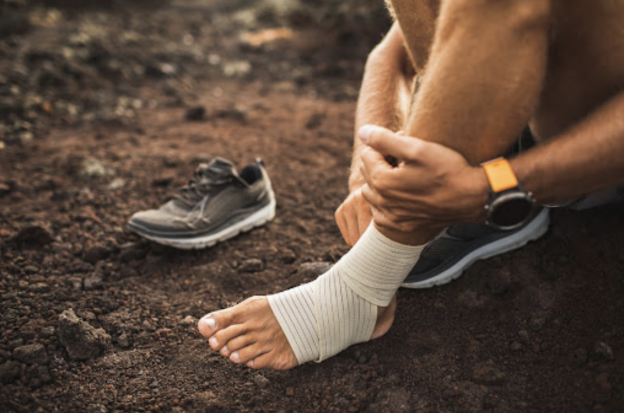 A 30 year old endurance athlete came in to consult with the Atmantan Naturals healers with the motive to regain his flexibility and to ease his muscle spasm. With history of surgery of a fractured limb, which had rendered him incapable of continuing his regular workout at the intensity of before.
The muscle spasm had also resulted in compromised mobility, while fatigue and flexibility concerns had risen primarily due to disuse post-surgery. He was thus seeking a prescription to improve his fitness levels so that he could return to his regular exercise routine.
Post the consultation, our Doctor advised him to go in for daily physiotherapy to regain his strength and endurance. He was told he needed to relax the muscles, and improve flexibility with passive stretches and other aided personal fitness workouts.
His prescribed diet was also to be structured around high protein, moderate fat and low carbs. This diet was supplemented with Atmantan Naturals' SUPER ANTIOX 6 (to prevent oxidative damage), CURCUMIN+ (anti-oxidative and immunity enhancer), OMEGA 3 fatty acids (for cardio vascular health), and PRO-COLLAGEN (for skin, bone and cartilage health).
Within a month itself, he started seeing tangible improvements. His endurance had improved and he felt his body had become more supple and he was even able to perform movements in the transverse plane!
His sincerity with the diet and regular physiotherapy had tremendously improved his postural scale and body equilibrium, which was back to almost normal now. He had healed from his severe muscle spasms, and as an athlete felt his body was now lighter and fitter.
Diabetes and Dyslipidemia are all both treatable once you decide on it!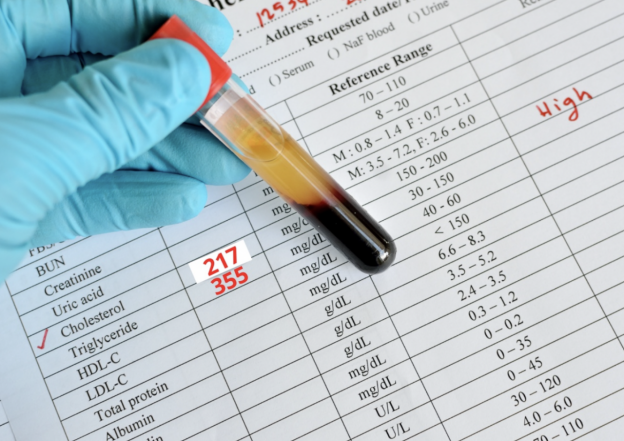 A 43-year-old lady was a diagnosed case of uncontrolled Diabetes and High Triglycerides (Lipid Imbalance-Dyslipidemia); She wanted to sincerely look for alternative ways to manage her condition; She as a person was also very receptive to lifestyle modifications and herbal medicines too. This is why she chose to consult with the Atmantan Naturals Healers.
After an in-depth consultation with our Doctor, she was recommended an anti-inflammatory and cleansing diet that consisted of low carbohydrates along with recommended fats and fibres.
She was also started on Atmantan Naturals supplements of Dia-solve to reduce the insulin resistance and adipose tissue inflammation, Anti-ox3 to help improve the good cholesterol and also to reduce inflammation, Pre-Gut (Prebiotics) to expel the bile acids thereby also reduce cholesterol, Curcumin+ (anti-oxidative and enhances the immune system) and Nutri Liver (for liver detox).
The results in this diabetes case study were truly heartening.
Over the next few months…
Her HbA1c dropped from 10.9% to 7% (Normal is below 5.7%)
Her Triglycerides dropped from 355 to 180 mg/dl (Normal should be less than 150).
And her LDL Cholesterol (bad cholesterol) dropped from 111 to 92 mg/dl (normal readings should be less than 100).
And her Total Cholesterol dropped from 217 to 205 mg/dl (normal should be less than 200).
While some readings had absolutely normalised, her glucose levels were also seen to be steadily improving. Very happy with her results and transformation, the guest was determined to keep up with the learnings. Her faith in alternative healing was proven right yet again!
FAQs
What does Atmantan Natural Curcumin+ treat?
Curcumin is one of the most powerful antioxidant compounds. Atmantan Natural Curcumin+ helps you to lose weight, boosts brain and heart health and aids digestion.
What are the key ingredients of this product?
Curcumin turmeric extract is the pigment that gives turmeric its vibrant colour and is rich in antioxidants and therapeutic properties.
I am suffering from poor immunity, can this help?
This nutrient provides biological information to all the cells and cellular DNA in the body. Incorporating anti-inflammatory nutrients to your diet reduces inflammation-related autoimmune conditions, supports healing, reduces toxicity and stimulates immunity to assist the body in its defence against infection.
What is the goal of the programme?
To provide you a highly bioavailable supplement that support all around wellness.