Digestive Enzymes
Optimise Digestion
Give your stomach some much needed support. After all, it does put up with all the nonsense you put it through - junk food, random mealtimes, midnight snacking, stress eating, comfort food, sweet indulgences.  Acid refluxes, acidity, heartburn, are all a thing of a past, thanks to Atmantan Naturals' Digestive Enzymes, our natural digestive aid. This combination of enzymes are proteins that act as catalysts to break down the nutrients and improve digestion, increase absorption, and enhance intestinal flora. It contains the best digestive enzymes, that break down a broad spectrum of foods. This natural Digestive Enzyme supplement is a lifesaver for those with food sensitivities, poor digestion, low stomach acid, autoimmune disorders etc.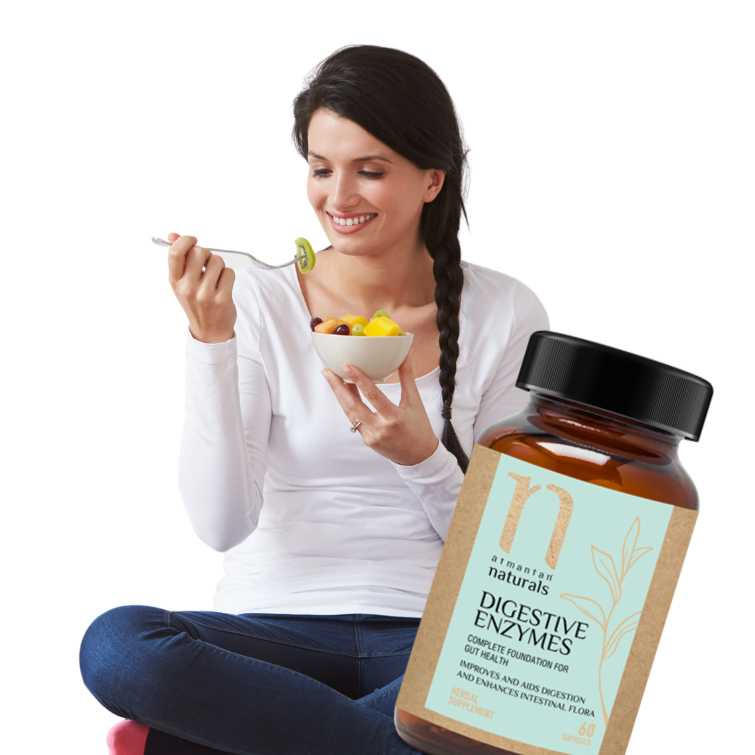 Digestive Enzymes Benefits

Improved Digestion & Nutrition

Powerful Antioxidant 

Improves Gut Health

Fights Inflammation  

Fights Food Sensitivity   
Ingredients
Strong Digestion I Complete foundation for Gut health
With the Purest Ingredients only

Amylase    

Protease

Lipase

Lactase

Papain

Cellulase

Bromelain
How Does Atmantan Naturals Digestive Enzymes Improve Health? 

A combination of enzymes that breaks down carbohydrates and fibres 

As effective enzymes for gut health, this improves Digestion

Aids optimal absorption and utilisation of micronutrients   

Metabolises various sugars and fibres

As digestive enzymes for GERD, this reduces inflammation in the gut  

Prevents development of small intestinal bacterial overgrowth (SIBO)

Improves nutrient absorption 

 This digestive aid supplement feeds gut bacteria  

Antioxidant and anti-inflammatory action 

Contains

Amylase, which metabolises Sugar

Protease, which converts protein into amino acids. 

Lipase, which improves digestion of fats

Lactase, which helps to process lactose

Papain, that breaks down tough protein fibres

Cellulase that breaks down fibres and manages blood sugar

Bromelain that is a protein-digesting enzyme
Is This For You?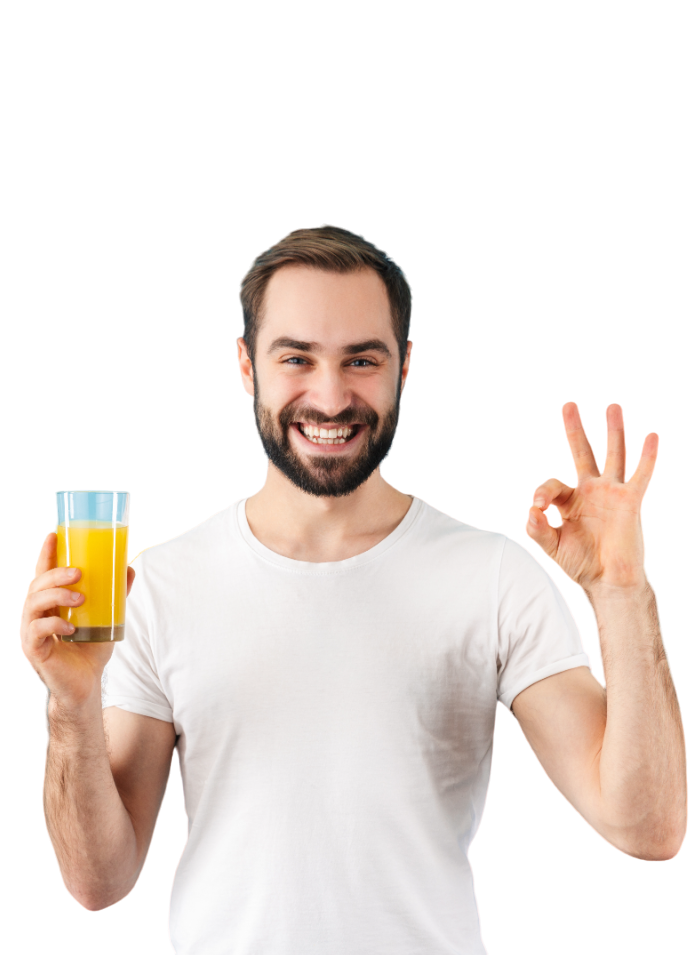 Atmantan Naturals Digestive Enzymes is for anyone and everyone fighting...

Unpredictable Gut Health

Digestive Issues

Autoimmune Disorders 

Indigestion 

IBS (Irritable Bowel Syndrome) & IBD (Irritable Bowel Disease)

General Lack of Wellness 

Frequent Stomach Infections

Leaky Gut
How Should I Have Atmantan Naturals Digestive Enzymes?

1-2 tablets immediately after food/meals

Store in a cool and dry place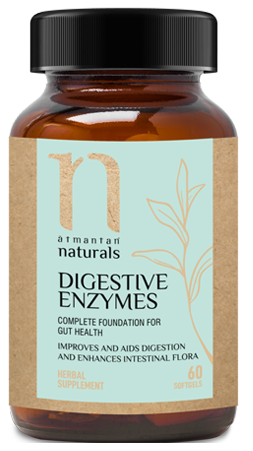 Get the most out of Atmantan Naturals' Digestive Enzymes by combining it with Atmantan Naturals' Omega 3. This combination improves blood circulation and general health thanks to all the beneficial short chain fatty acids. 
Explore Management Kits
Atmantan Naturals is also backed by a team of doctors who can guide you.
Have any queries?
Do call our dedicated medical health-line to get a better idea of how best our range of nutraceuticals can help you stay well and at your strongest.
Did You Know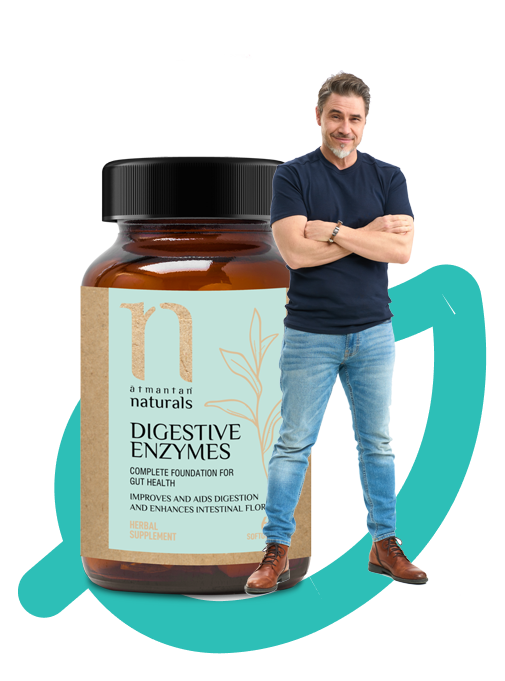 Complete Foundation For Gut Health
Remedying sleep deprivation by Nikhil Kapur - Founder & Director of Amtantan Wellness Resort
Key Benefits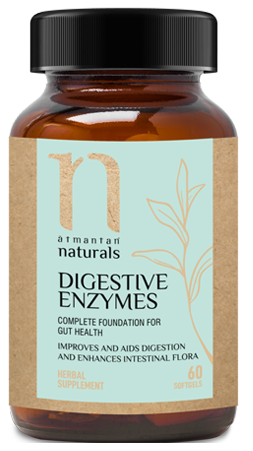 Improved Digestion 

Powerful Antioxidant 

Improves Gut Health 

Fights Inflammation  

Fights Food Sensitivity  

Betters Nutrition
Know Digestion Enzymes Better
When we consume food, the digestion starts in the mouth, and as we chew, the passage of food through the digestive tract begins. It is along the path that the food takes, that various digestive enzymes are secreted. These naturally occurring digestive enzymes are proteins that our body makes and are those that assist in digestion and help to break down carbohydrates, proteins and fats.
 
While digestion seems like an automatic process in our body, it is actually a complex function. Digestion is the process of deriving nutrients from food, such that the body gets energy, and is able to grow and perform vital functions; Digestive enzymes are crucial supporters that help break down the food such that it can be absorbed. If digestive enzymes are not there, then the nutrients in the food will all go to waste!
 
Hence, even while we consume food to derive nutrients, and for this to really happen we need digestive enzymes. Suffering from health concerns like osteoporosis or uncomfortable abdominal symptoms like bloating and diarrhea, or even becoming nutrient deficient can all be because of a lack of these very enzymes.
 
Digestive enzymes are produced and released by several of our organs, including the mouth, stomach, pancreas, and small intestine. The main digestive enzymes that break down the macronutrients (fats, carbohydrates, and proteins) are…

Amylases, that help breakdown carbohydrates into sugars,  
Proteases, that helps break down proteins into amino acids, and
Lipases, that helps break down fats (triglycerides) into fatty acids.

Gut health is a combination of various functions and lifestyle habits, and digestive enzymes are a necessary component of it. When suffering from a deficiency in these enzymes, the symptoms will first show up in your gut. If you are dealing with digestive issues like bloating, gas, diarrhoea, constipation, undigested food in your stools etc. it suggests an enzyme deficiency (as you are suffering from improper digestion). 
 
Lifestyle habits with healthy meals and supplementation, go a long way in improving these enzymes in your bio-system. 
Complete foundation for gut health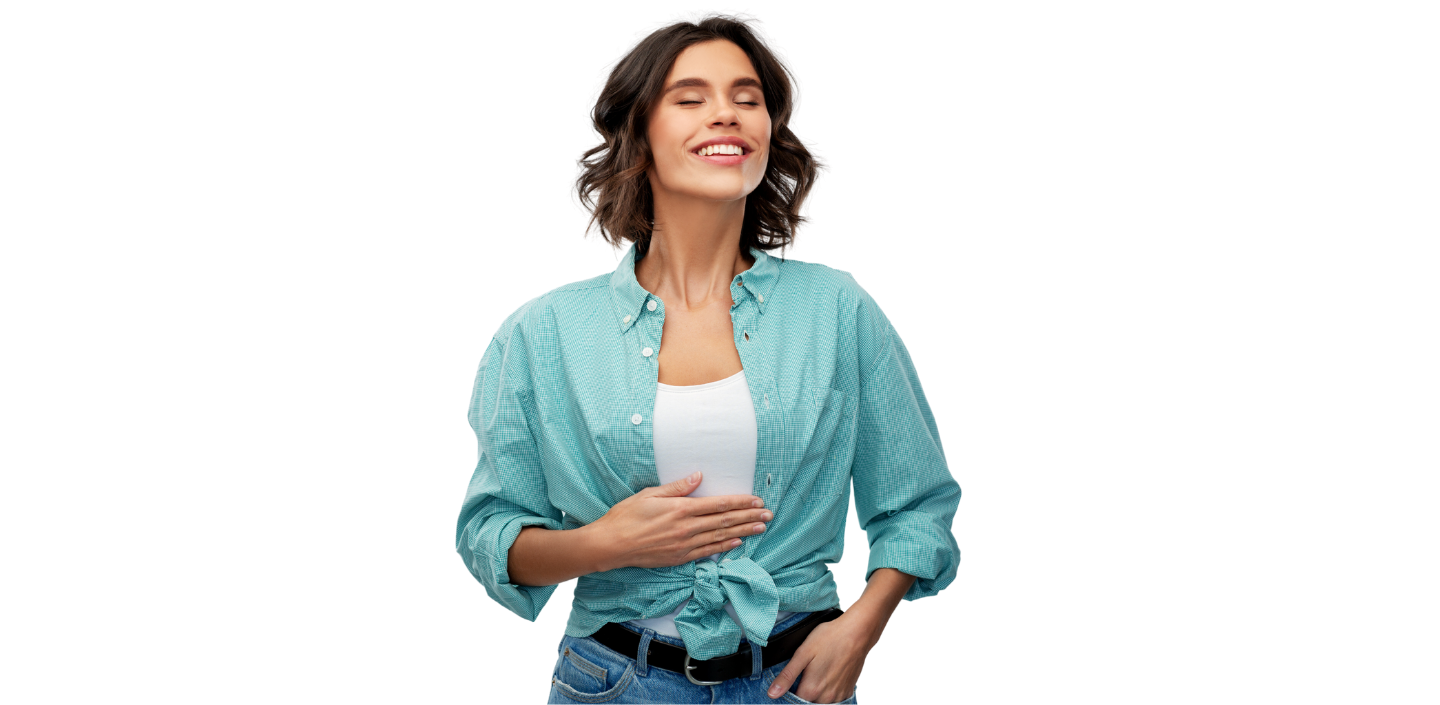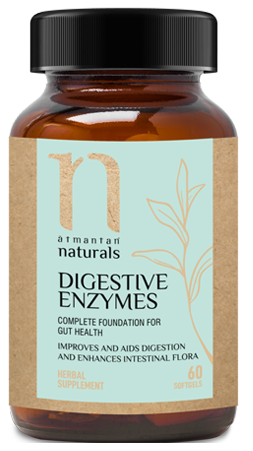 Why Should I Take Atmantan Naturals Digestive Enzymes? 

Heals, repairs and nourishes damaged gut

Complete digestive enzyme supplement 

Armour for digestion

Good digestion for good eaters

 Less acidity
Call our dedicated medical helpline if you have more questions.
If you are experiencing any digestive problems, consult with our doctors now. A stronger digestive system improves the quality of your life far more than you realise.
Atmantan Naturals Digestive Enzymes
VS Others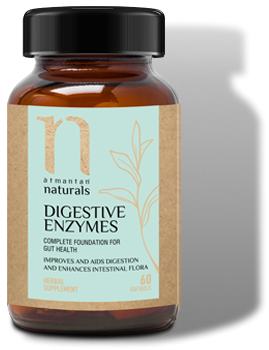 Natural Ingredients  

Anti-inflammatory 

Hypo-allergic

Sugar Free

Antioxidant

No Side-effects 

Gut Friendly 

Gluten Free 
Atmantan Naturals is also backed by a team of doctors who can guide you.
Want to know if this is for you?
8799996200
Do call our dedicated medical health-line to get a better idea of how best our range of nutraceuticals can help you stay well and at your strongest.
CASE STUDIES
GERD and Inflammation helped tackle fatigue and improve sleep quality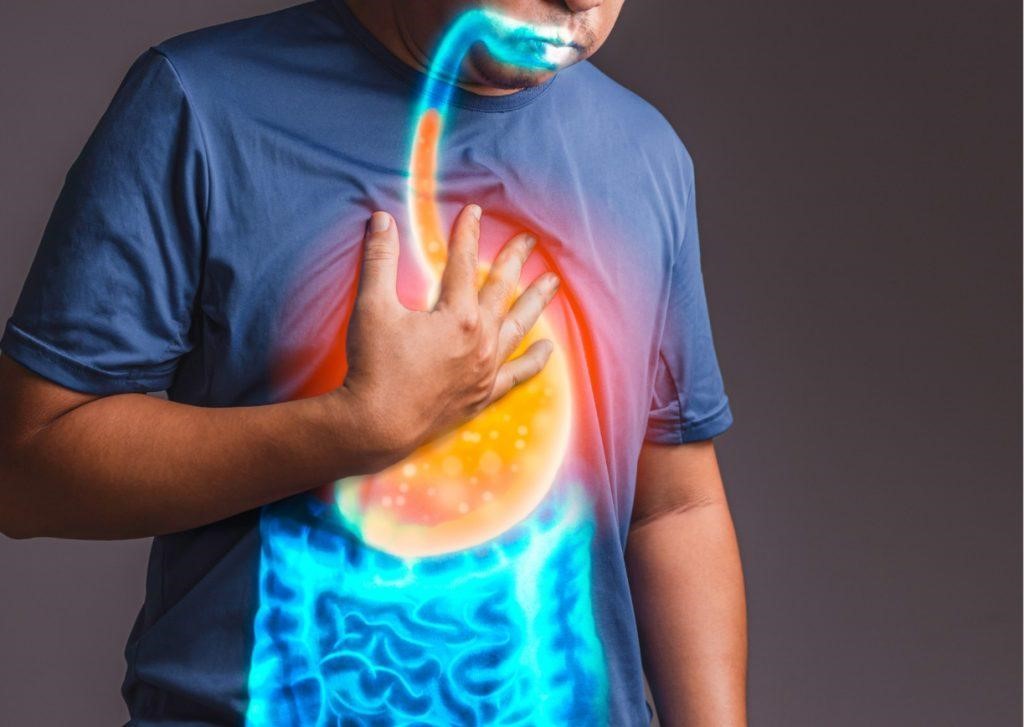 A 40-year old male had been suffering from GERD (Gastro Esophageal Reflux Disease) associated with disturbed sleep and fatigue for over a decade. Since he also had a habit of late-night nibbling. His medical reports also indicated high LDH (Bad Cholesterol) levels, which is a marker for cell damage and inflammation along with a Vitamin B12 deficiency. 
Upon his Naturals Doctor consultation, it was realised that he needed a complete change of diet along with correcting his gut dysbiosis. He was asked to take on a cleansing diet that included an alkalinising diet consisting of probiotics, and anti-oxidants. Along with this, he was prescribed the Atmantan Naturals' supplement – Gastro care that would help reduce inflammation and promote the healing of the gastric mucosa, Relax Aid to combat stress and disturbed sleep, and Digestive Enzymes for improved digestion function.
Over the next couple of months, thanks to the guidance of the Doctors and his commitment, the patient's blood work shows that his B12 had increased (From 291 pg/ml to 453 pg/ml), and his LDH level had also reduced. The change in diet along with the supplementation had also reduced his reflux and his sleep had conspicuously improved too. The patient no longer felt the discomfort and his gut was now normalised and he continues with his supplementation while trying to maintain a healthier diet in his day-to-day life.
Hypothyroidism and Weight Gain are signs of Inflammation in the bio-system!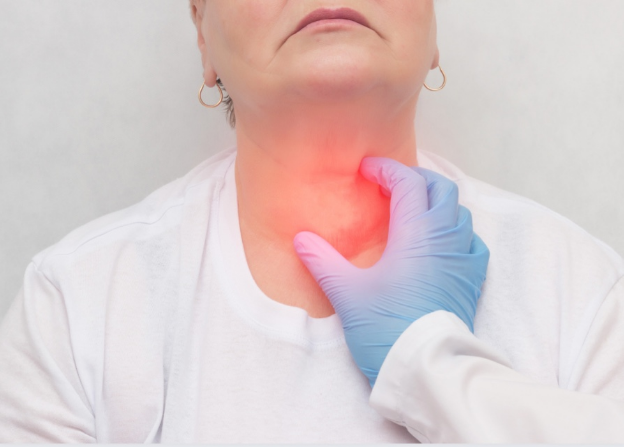 A 53-year-old lady suffering from complaints of weight gain, sluggishness, and thyroid dysfunction, along with early morning stiffness and pain in all the joints, decided to consult with the Naturals Healers.
She went through an in-depth Doctor consultation and recommended testing, wherein she was also found to be suffering from severe inflammation in the body; With high cholesterol issues and a borderline blood pressure concern along with her other pressing symptoms of weak digestion, obesity, and hypothyroid.
She was prescribed therapeutic fasting to start with detox as per Naturopathy principles for the initial few days post which she was told to consume an anti-inflammatory meal plan that was high on anti-oxidants, natural probiotics, moderate carbohydrates, and higher fat. This prescribed diet was to be supplemented with Atmantan Naturals' Omega 3 fatty acids (for assisting in reducing systemic inflammation) Digestive Enzymes (to improve digestion and fight gut inflammation), Thyrocare (to manage thyroid dysfunction and to activate the conversion of thyroid hormones), Nutri Liver (For Live detox and health) and Fat Blazer (for improved metabolism).
She was also recommended fitness sessions, along with yoga classes to activate her thyroid functions along with creating a lifestyle that helped her better manage her stress.
The result after 2 months was that her TSH came down from 4.3 to 2.3 uIU/ml (it had now normalized!) and her inflammatory marker (such as ESR) had dropped from 68 to 33 and the C Reactive Protein (A high CRP reading is a sign of acute inflammation) had come down to 2.02 from 8.3! Even the pain and stiffness around the joints had significantly reduced, (she was not having any difficulty with stiffness in the early mornings anymore).
And since her blood pressure had also streamlined, and her lifestyle had improved with a normalised TSH, she had thus also managed to lose 5 kgs of weight.
Upon getting her blood reports done, the transformation was further quantified as the values had all reduced significantly in just a short period of time. Over time even the Stool examination revealed that the gut inflammation (which existed in the beginning) had disappeared!
Through the following year as she continued on her healing path, her total Cholesterol also normalised (when it reduced from 219 to 159)! This included her Triglycerides having dropped from 106 to 97, while her good cholesterol that had improved from 45 to 47!
Needless to say, the results were fabulous, and her sheer will and hard work, along with the guidance of the doctors had gotten her here.
One more Insulin resistant person misdiagnosed as suffering from Type 2 Diabetes.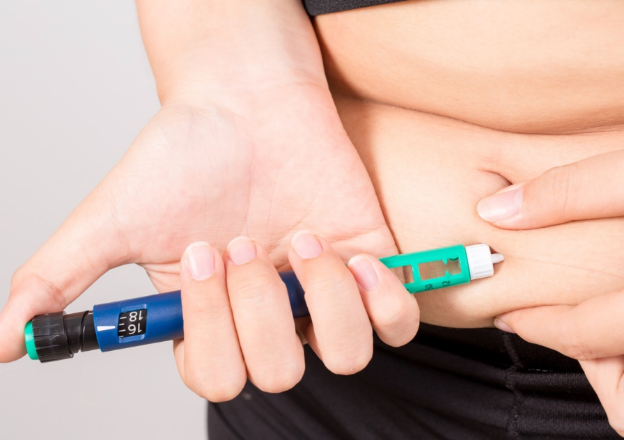 This 44 year old lady guest who is a known case of Type 2 Diabetes, had also been struggling to lose weight for a while. She decided to consult with our healers because she had heard of our Diabetes Reversal approach!
Upon consultation and diagnostics, our Doctors realised she was not a case of Type 2 Diabetes but was in fact insulin resistant! Since she was already on Diabetic medications, her fasting blood sugar on admission was 103 mg/dl. And she also shared that she had been suffering from disturbed sleep.
She was prescribed a strict anti-inflammatory diet along with indigenous therapeutic shots for heart health, Diabetes control, and insomnia. She was also prescribed the Atmantan Naturals' supplements of Dia-solve (for her insulin resistance), Digestive Enzymes (to improve digestion and combat gut inflammation), Fat Blazer (as a fat burner), Omega 3 (for General Health) and Anti-ox 3 (Powerful anti-oxidant that protects against DNA damage).
She followed this regime after 2 months not only had her sleep improved tremendously, but she had gotten off her diabetic medications completely and lost weight!
Her fasting blood sugar was down to 90 mg/dl from 103 mg/dl (and this was achieved without her regular allopathic medications!).
Losing weight that had always been impossible for her had also been conquered, as she had now finally tackled some of the inflammation in her body and managed to lose 4+ kgs. Feeling extremely positive not just about losing weight but also about having learnt to manage her diabetes naturally, she was determined to continue to stay on this path of transformation.
High Blood Pressure along with IBS are signs of ongoing inflammation in the body.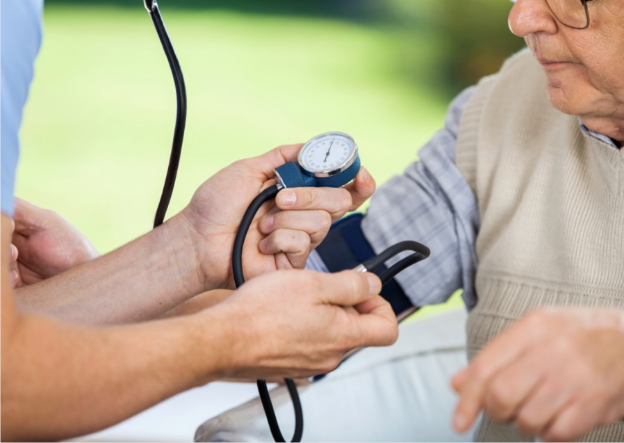 A 63-year-old male patient who had been diagnosed as suffering from Hypertension for the last 20 years and IBS (Irritable Bowel Syndrome) for the last 10 years consulted with our healers looking for much-needed relief.
During the Doctor's consult, along with his case history of high Blood Pressure and IBS, he also mentioned his complaints of cervical and lower back pain, along with feeling constantly fatigued. The guest also had a surgical history of Coronary Angioplasty conducted 6 months ago! (Presently he was consuming medications for hypertension, antiplatelets to prevent clots, and statins for high cholesterol!) He also complained of loosely formed stools and incomplete evacuation of bowels. (As per him, he passed 4-5 times motions a day).
After some added tests, the guest was prescribed a low carbohydrate and moderate fat, anti-inflammatory diet, along with dietary probiotics. All this was supplemented with Atmantan Naturals' Gastrocare (to treat H Pylori and bloating), Gut Revive (a superior pre-biotic mix that repairs and nourishes the gut), Digestive Enzymes (for gut health and to curb gut inflammation), a combination especially recommended as an IBS management kit, and Anti-Ox 3 (a lipid antioxidant to improve the vascular health and to reduce oxidative damage).
He was also told to take on physiotherapy sessions for flexibility improvement and body therapies for the release of trigger points. This would over time help ease out the tension in the muscles and reduced his spasm as well.
Over the following months, as the Doctor monitored the patient, an overall transformation was achieved…
His frequency of motion had reduced to 2, to a maximum of 3 times a day.
He had also lost some weight (and this weight loss assisted a physio improvement as well) add thanks to this and the regular rehabilitation sessions, his pain scale and his range of movements had improved
Even his Blood pressure which had been 139/94 mmHg (with medication) at the time of the first consult had now normalised to 122/84 mmHg (and this was achieved without allopathic medications)! However, he was asked to regularly monitor his blood pressure going forward as well.
He felt extremely empowered at having not such rectified his IBS but also normalised his BP, and was motivated to continue to maintain a healthy weight, through this newly learnt improved lifestyle.
Lower-back pain, walking difficulties & reflux can all be eliminated with a lifestyle overhaul!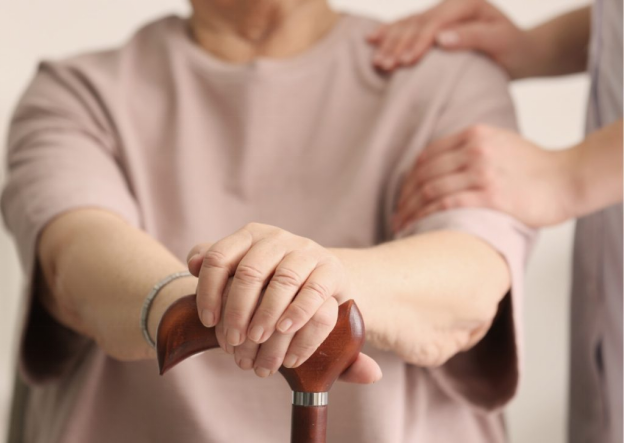 A 59 old female previously diagnosed with Type 2 Diabetes, and hypertension was scheduled to consult with the Naturals Healers. She was hoping to get some relief from her constant aches and pains and the fact that she had difficulty carrying out her day-to-day tasks or even walking. She also wished to address her GERD with our Doctor's support.
At the time of the initial consultation, she was under medication of a proton pump inhibitor daily (Antacids). She also mentioned to the Doctor her complaints of severe acidity, along with moderate to severe lower back pain, such that she was unable to even walk 10 steps continuously!
She was prescribed a low carbohydrate diet, which was also a healing but bland diet, enriched with dietary prebiotic supplements. She was also prescribed a deworming course along with the supplementation of Atmantan Naturals' Gastro Care (For gut health and acidity), Digestive Enzymes (For gut nutrition and health), Boswellia Max (for combating inflammation and joint health) and NatFlam 6 (for musculoskeletal pain).
She was asked to take daily physiotherapy sessions to mitigate her lower back pain and help with overall rehabilitation.
At the end of 2 weeks, the Naturals Doctor monitored the physiotherapist's notes and assessments and concluded on a significant reduction in pain as well; She was able to walk more than 50 steps in a continuous manner (without halting). Also due to the pain in the lower back, the compensatory shift of body equilibrium to the right side that she had been suffering from, had also improved such that her equilibrium and muscle balance had now reached near normal!
Even her symptoms of GERD such as pain behind her chest bone, burning sensation, acid taste in the mouth, difficulty swallowing, etc. had also significantly improved thanks to the healing diet and supplementation.
She felt better as she was now able to better tolerate all the age-related aches and pains and decided to continue on this healing journey.
Palpitations, Regurgitation Stopped & Gait Corrected By Successfully Tackling Morbid Obesity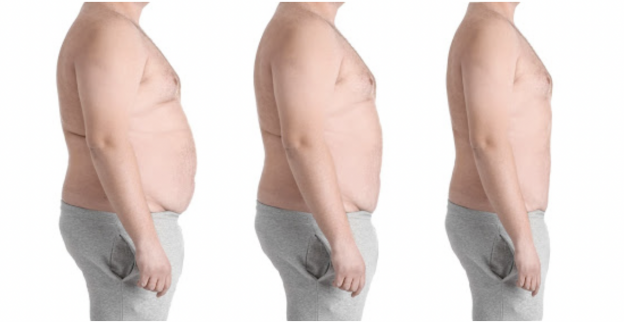 A 17-year old boy who was diagnosed with class III obesity (BMI of 40 or higher) associated with borderline high blood pressure connected with the Atmantan Naturals Healers. He had gained weight basically due to a sedentary lifestyle and overeating.
He had also been suffering from frequent migraine attacks. Symptoms also included him feeling palpitations and breathlessness even on mild to moderate exertion, use to regurgitate whenever he had had a heavy meal! Besides all this, he also wasn't able to physically cope-up with his day-to-day activities. He had been suffering from these for a while, and this had now made him more anxious… it was decided that he needed to check into a wellness centre for supervised help and that is when he decided to come to Atmantan Wellness centre for a transformation.
On admission, the Doctor ran diagnostics and learnt that his blood pressure was 138/88mmHg (Normal should be 120/80 mmHg) and his Body Mass Index (BMI) was 47.8 (Normal BMI is between 18.5 and 24.9). After taking a detailed case history, the Doctors put him on a personalised retreat for 28 days. The clear objective was to work on improving all his lifestyle habits while also educating him on the importance of routine exercise and healthy eating practices.
During his programme, he was put on an integrated fitness regime that included activities along with some prescribed deep muscle treatments to manage the delayed onset muscle soreness and to improve joint mobility, along with Colon hydrotherapy.
He was put on a strict diet plan that included phases of low carb, moderate fat, and high protein diet along with a detoxification diet. Along with all this, he was also put on essential NATURALS supplementation of Gastro Care (For relief from gastritis & indigestion), Omega 3 (Essential fatty acids for cardiac health), Anti-ox3 (Powerful lipid anti-oxidative formula), Digestive Enzymes (For improved digestion and gut health) and and Fat Blazer (To curb cravings and improve metabolism)! Besides exercises and treatments, he was put on a diet plan that included phases of low carb, moderate fat, and high protein diet along with a detoxification diet.
His results as expected were truly impressive.
At the end of his programme of 28 nights, he had nearly lost around 18 kgs (Almost 650 grams a day)! There was a significant reduction in his visceral fat as well, which came down from 20 to 15! His BMI was brought down from 47.8 to 42.2. There was a great reduction in his fat mass along with a decent increase in his muscle mass too.
What was also superb was the fact that this overall weight loss has also helped improve his symptoms of breathlessness and palpitations. Even the migraine attacks had now significantly reduced in frequency and intensity. The brilliant turnaround also came with his food cravings that were now under control; He was satiated with his prescribed meals and the controlled portions, all of which eradicated his regurgitation. Thanks to his new healthier self, he was also able to keep his energy levels high and improve his gait.
What was truly inspiring in this obesity case study, is that his entire outlook on life had now completely changed; he had lost his double chin, his face looked naturally sculpted, he had dropped 4 sizes, and had become very confident about himself. At a young age, he had now learnt to take charge of his life in a healthier and more informed way! He carried his lifestyle plan and supplementation home with him.
Irritable Bowel Syndrome is not something we need to live with!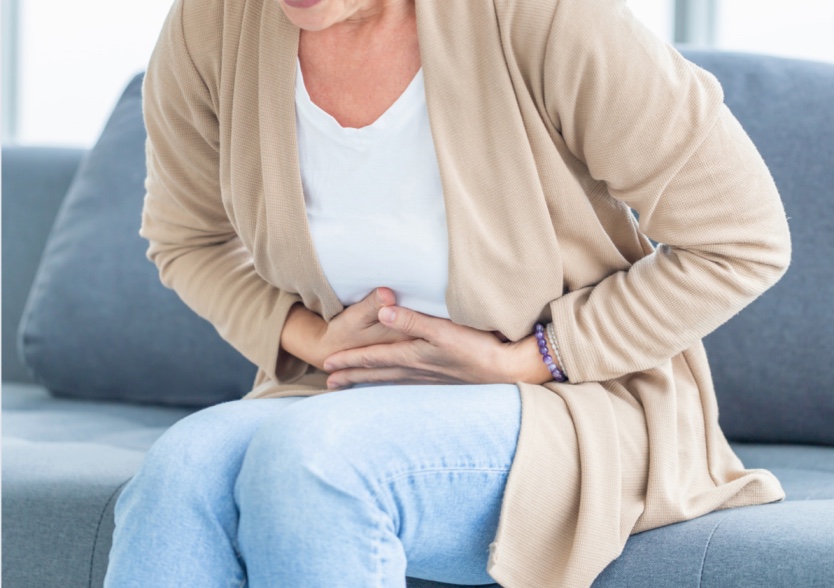 This 52 year old businesswoman was suffering from IBS (Irritable Bowel Syndrome) for more than 2 years and was also having multiple bowels a day (in very short durations). She used to have the urge to pass her bowels post every meal and this had negatively also affected her day-to-day activities, along with it having negatively impacted her social life too.
When she decided to connect with our Doctors, she was honest about wanting a drastic change in her life. Post the initial consultation and diagnosis, a customised diet plan and workout regime was planned for her. Her diet consisted of low fibre and free of simple sugars and carbs, along with the Naturals supplements of Gastrocare, Digestive Enzymes for improving her digestion, and also Virgin Coconut Oil to eradicate the harmful bacteria from the oral cavity and stomach to better treat her condition. For fitness, she was told to take on yoga, breathing practices, and meditation to manage her stress levels.  Her system reacted superbly to the supplements and the diet change such that on the 3rd day itself her bowel movements started reducing and she felt close to normal after years! In a month her bowels even became regular.
She was extremely grateful and so happy to know that her search for the cure was finally over; her long-standing illness finally seemed to be under control and even coming to an end under the guidance of the Atmantan Naturals Doctors!
Type 2 Diabetes Can Be Revised and Reversed…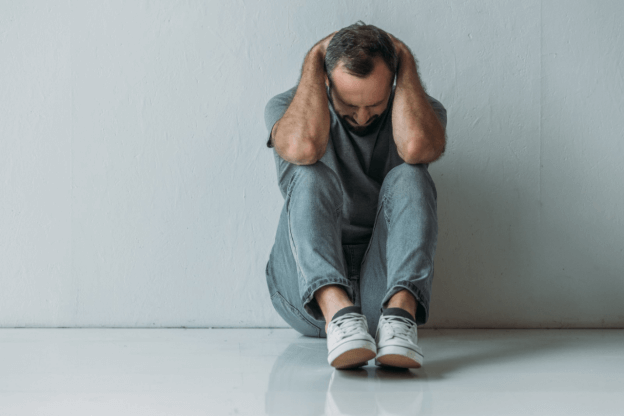 A young looking 45-year-old male guest was a known case of Type 2 Diabetes mellitus. He also had complaints of a kidney stone and reduced testosterone level. He was on a higher allopathic medication dosage for his diabetes as well.
He really wanted to get to a healthier self and got in touch with the Atmantan Naturals Doctors.
He was hopeful that he could improve his sugar levels. Upon his consultation and study of his blood markers, what was most alarming was that even while on 2 sets of allopathic medications for Diabetes, his:
Fasting Blood Sugar was 293mg/dl (while on medication)
Post-prandial Blood sugar was 554mg/dl
And his HbA1c reports showed 12%, which indicated uncontrolled Diabetes!
He was put on a gut reset and cleanse.
He was also recommended sessions of yoga, breathing practices, and therapeutic stretching to improve glucose utilisation and insulin sensitivity.
Along with this, he was recommended a low-carbohydrate high-fat diet that would further help improve his blood sugar levels, along with key Naturals Supplementation. This included Dia-Solve (To better manage the blood sugar level and to lower insulin resistance), Omega-3 (To boost the fatty acid metabolism to yield energy), Testosmax and Zeal plus (To boost the testosterone production without any adverse side effects). He was also prescribed with Hair Skin formula (for reducing the skin pigmentation that was a side effect of his diabetic condition) upon departure.
This young guest saw fabulous results within a month and a half…
His Fasting blood sugar levels had decreased from 293 mg/dl (with medication) to 105 mg/dl! (Allopathic Medications were majorly tapered).
His weight was now 57 kgs(down from 61.6 kgs)
His transformation in his sugar levels normalising was phenomenal and his steadfast belief in the doctor-prescribed programme along with his regime had gotten him here; he was determined to maintain this progress going forward.
FAQs
What does Atmantan Naturals' Digestive Enzymes treat? Can it treat my IBD?
Improper digestion causes significantly more stress and inflammation in the gut lining. This can ultimately lead to the degradation of mucosal membranes, leading to complications like leaky gut syndrome. When the mucosal membrane is damaged, it is unable to secrete the appropriate enzymes and we end up in a vicious cycle that causes more gut inflammation. Atmantan Naturals Digestive Enzymes reduce the stress on the digestive system, counters inflammation, and aid digestion.
I suffer from autoimmune IBD and a leaky gut. Can this help?
There are significant pH ranges in the stomach and small intestine. These enzymes are formulated to survive and thrive in several different ranges. Intestinal stress is a major cause of leaky gut syndrome and autoimmune disorders. The bio-available enzymes in this supplement reduce the stress on the gut and improve nutrient absorption and help in the treatment of IBD, IBS, etc.
What's the goal of the programme?
It's a cost-effective, non-prescription, broad-spectrum, digestive enzyme formula that's suitable for all. Especially vegans. It is designed to support the digestion of fat, protein, carbohydrate, fibre, and lactose.
What are the key ingredients of Atmantan Naturals' Digestive Enzymes?
Amylase helps the body to metabolise sugar and starch and turn it into glucose.
Protease is a type of enzyme that functions mainly to digest different kinds of proteins and convert them into smaller chains called peptides or even smaller units called amino acids.
Lipase is an essential enzyme for the digestion of fatty (lipid) acids. It is responsible for breaking down fats into smaller components that can readily be absorbed through the intestines
Papain is a powerful digestive enzyme commonly found and extracted from the papaya fruit. The papaya-enzyme papain plays a key role in digestive processes involving breaking down tough protein fibres.
Cellulase is an enzyme that breaks down major fibres in fruits and vegetables called cellulose. Glucose from cellulose is released slowly and not dramatically. Thus preventing blood sugar spikes but rather providing a more stable fuel for the body.
Lactase is an enzyme that helps break down the sugar lactose into glucose and galactose. Many people are deficient in the enzyme lactase and are unable to process lactose which leads to serious gastrointestinal distress and chronic inflammation.
Bromelain is a protein-digesting enzyme complex found in fruit and is highly concentrated in pineapple stems. It helps hydrolyse or break down a wide variety of protein types in both acid and alkaline environments.